Roy: I bet you're wondering why I've called you all here..

Ed: No, not really, you like to call these bullshit gatherings and stand around glowering at us.
Roy: I'm not glowering, ok look, I'm molded this way, it's not as if I can help it.
Ed: Whatever man-whore, you know you're a lot less intimidating being a bandai model.
Roy:...height isn't everything.
Ed: Sez you.



Roy: Such blatant displays of insubordination...something has to be done, but what can I possibly do? Damn this plastic molded form.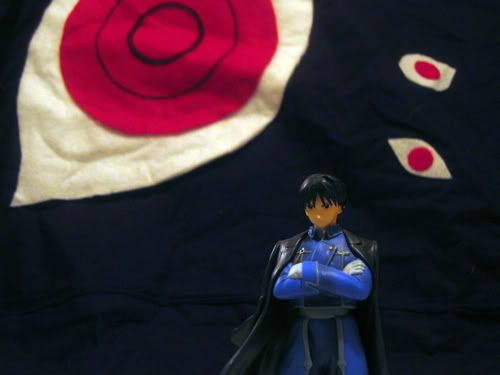 Gate: Um, hi. We're looking for Jack in the Box, do you know of one around here?
Roy: You need to hit the one downtown, the one up the street isn't worth shit.
Gate: Dude, we so owe you, anything you need?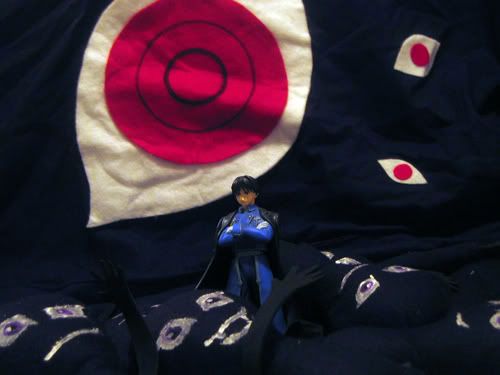 Roy: Now that you mention it...DUDE! Are you like squeezing out babies at me?
GateBabies: SPORBLE!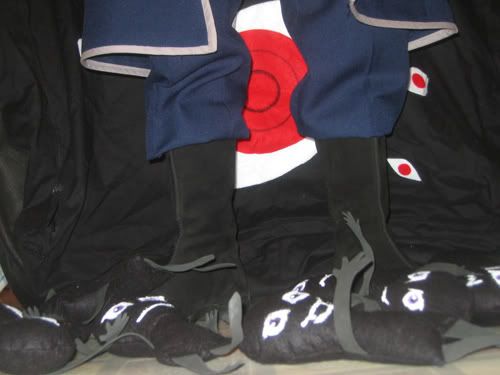 Roy: Whoa, that was a head rush. The ceiling seems a lot lower.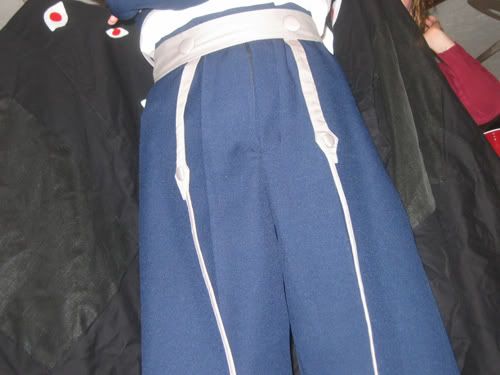 Roy:Sky, my face is up here. I realize that it's irresistable, but really, how many pictures of the package are you doing to take? Just the other day while we were looking through the album I realized you talk to my crotch more than you talk to me.
Sky: Roy, shut up, you're ruining my dramatic pan-shot up your body.
Roy: How long are you going to pan? It's been about half an hour already, I know it's an impressive size, but I think you could have at least made the chest area by now.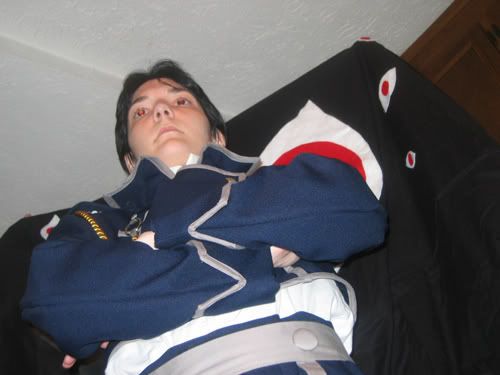 Sky: You look like Barbara Eden. You know from I Dream of Jeannie? Didn't she do that pose right before she blinked her eyes and bowed her head and made all her Master's wishes come true?
Roy: This is the dramatic pose Bandai chose for me, I had nothing to do with it.
Sky: I don't remember you being this big or fleshy... what is that ominous presence looming at your back?
Roy: Some guy looking for the Jack in the Box.
Sky: You warned him about the one up the street, right?
Roy: Yeah.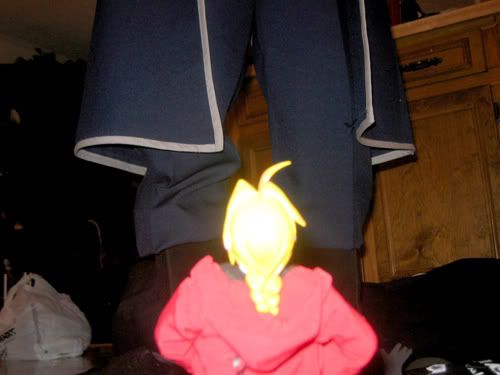 Ed: Holy fuckin' shit
Sky: Ed, what is your obsession with walking right into a shot... hey...wait a minute...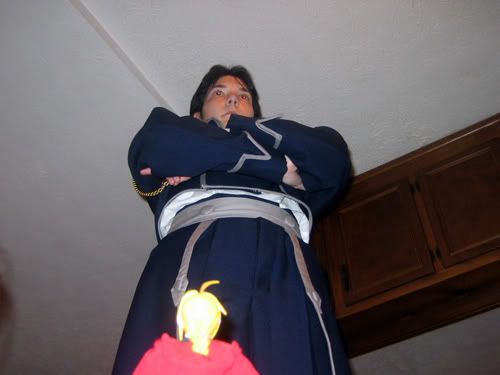 Ed: See? I knew there wasn't any god, why does this shit happen to me?
Sky: ...Roy got big. Like lifesize big *_* There's a Roy in my kitchen.
Ed: No there's a giant fuckin' dick-head in your kitchen. How you gonna get him back on the shelf?




Roy: Edward, you and I need to have a little chat about this name calling...hey, I can move my arms.
Ed: HEY, WATCH THE GOODIES. THIS ISN'T MY IDEA OF FUN
Sky: *_* There's a Roy in my kitchen.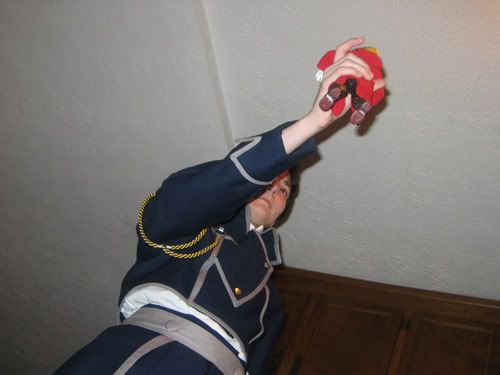 Roy: I think we were discussing the merits of size?
Ed: This is so fuckin' unfair! You bastard! I think you sacrificed Sky's brain for this! You're morally irreprehensible!
Roy: Don't be silly, Sky's brain was sacrificed a long time ago. If anything got sacrificed it's the hamsters that spin the wheels in her empty cranium.
Ed: Well, you have point.
Sky: *_* There's a Roy in my kitchen.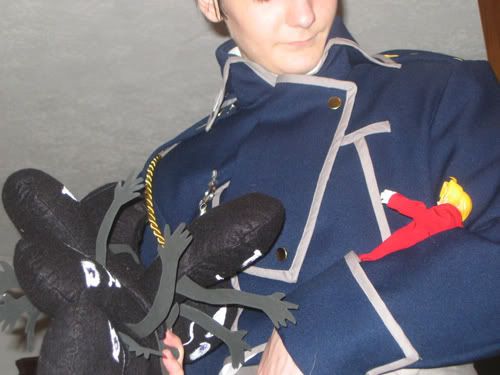 Gatebabies: Sporble?
Ed: Huh? Jack in the Box? Did you try the one downtown?
Gatebabies: Sporble!
Ed: Nah, its' ok you don't owe me anything...wait....
Sky: *_* There's a Roy in my kitchen.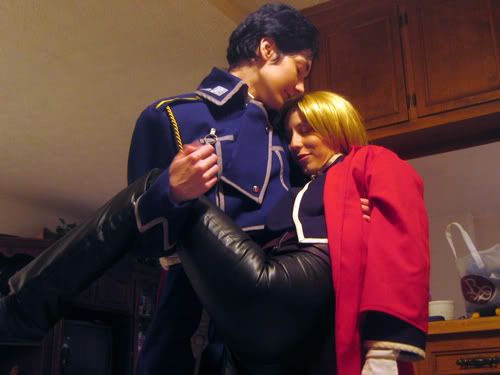 Roy: I think I could get the hang of this flesh and blood thing.
Ed: You can put me down anytime now.
Roy: True, I could, but is that what you really want? Why don't I carry you over to that couch over there and put you down. In fact, I could use a little lie down myself.
Ed: How about you put me down and I let you keep your balls?
Roy: I think I'd let you keep my balls, anways.
Sky: ... *_* My OTP is in my kitchen.
Ed: Feet, floor, now.
Roy: I think the little Colonel is enjoying the feel of leather being all pressed up against....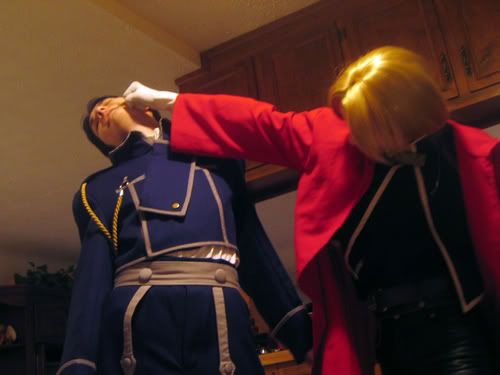 Ed: Oh yeah? The little Colonel doesn't have enough iron in his diet! Eat automail!
Sky: OMFG FOREPLAY \o/

Meanwhile...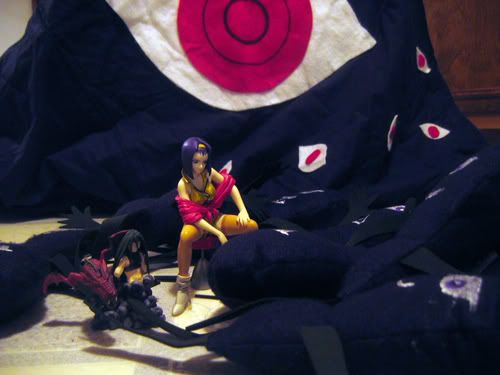 Dante: I can't believe they told you to go all the way downtown to the Jack in the Box. There's a Jack in the Box up the street.
Envy: I'd go there myself but only having half a molded body and arm makes travel a little difficult.
Gatebabies: sporblesporblesporble
Dante: Don't mention it, I just don't see the point in fighting all that traffic for a bacon ultimate cheeseburger.
Gatebabies: sporble!
Envy: Well... if you insist, I promised I'd only use it for evil.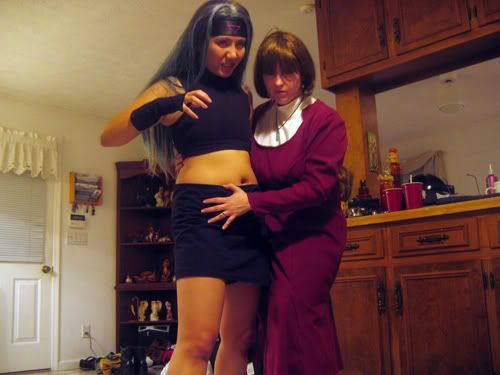 Dante: I have you baby, I know the new legs will take some getting use to, don't worry.
Envy: MOOOOMMMM, you're embarrassing me in front of all the other toys made flesh!
Dante: Is that any way to treat the soul of your mother who's been hopping bodies these last few decades? I still remember the original body you know. Fifteen hours of labor and your sorry excuse of a father was out subjegating a neighboring country...
Envy: MOOOOMMMMMMM

Meanwhile...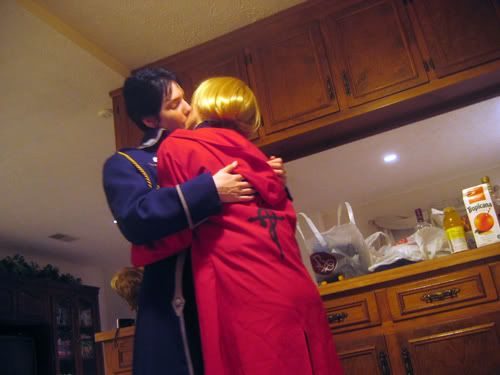 Sky: *_* My OTP is in my kitchen.
Roy: NOM NOM NOM
Ed: NOM NOM NOM
Sky: ;_; I love you Canon Powershot. I love how you are always convienetly in my hand when my OTP is in my kitchen. ;_;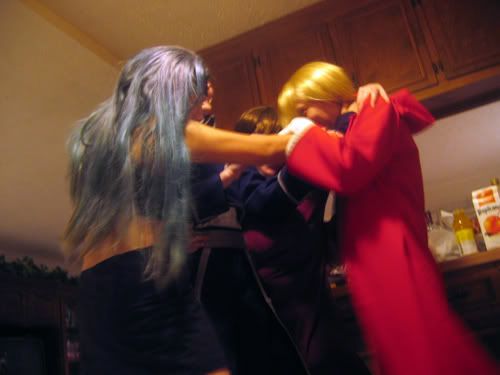 Envy: Hey Ed, look I got a whole arm now...what are you guys doing?
Dante: See? Your good for nothing father was to busy off devising life-sucking arrays to give you the birds and bees talk!
Envy: MOOOOMMM
Ed: HEY, you're interfering with my first chance to get some since Sky pulled me out of the box!
Sky: HEY! GET THE FUCK OUT OF THE PICTURE ENVY, MY OTP IS IN MY KITCHEN! >E




Roy: Now, now, there's enough of me to go around, really, you shouldn't be fighting over me...
Envy: Fighting over what? Hey, what's that hard thing in your pocket?
Dante: Edward, you need to share with your brother.
Sky: Wait a fucking minute! >E This isn't OTP four! HEY! HEY! I DON'T EVEN LIKE ENVY!
Ed: *SIGH*
Sky: ROY YOU MAN-WHORE, GET WITH THE PROGRAM!
Roy: I don't think Ed should be kissing his half- brother...
Sky: That's more like it!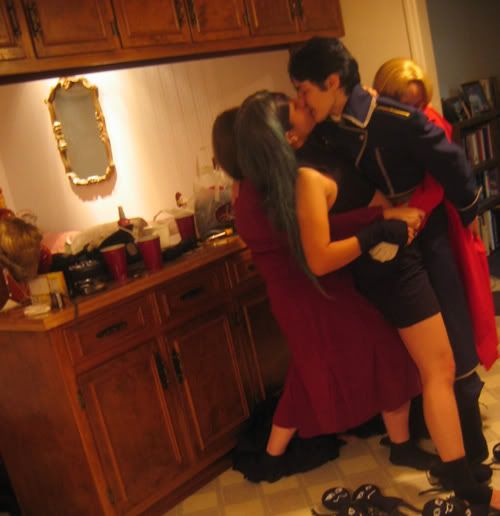 Roy: So I'll kiss him instead.
Sky: ... ;_; ...
Ed: *SIGH* Roy sandwich again.
Dante: I'm a involved parent so I feel that I should be here for my son
Sky: This is some fucked up
hieronymousb OTP, dammit.

This crack theatre brought to you by Smirnoff, Captain Morgain and Bushmill Irish Whiskey

Toy Wrangling:
sirenia9
Gate holding:
shuki_ai

Filmed in Drunk o' Vision

No Cosplayers were harmed in the making of this crack...well their livers might be harmed.


If you want to read good but fucked-up OTP, go read
hieronymousb's Wasteland

Lifesized Roy:
loreamara
Lifesized Dante:
cryogenia
Lifesized Envy:
wiccat
Lifesized Ed:
edchii